Sign up to support families who have stepped up to the call to care for children who are in need of families locally and around the world.
Being a foster parent is one way to help a foster child, but it isn't the only way. This work takes a team approach and sometimes the best thing you can do is bring dinner. You may wonder how dinner helps, other than just the physical provision of food, but the time you invest in making that meal is time that foster parents can invest in relationship building with the child. There are so many other examples– bringing diapers, having groceries delivered, praying for the child and family, dropping off coffee for an exhausted mom, taking their bio or adopted kids on a fun adventure so the focus can be on the foster child, providing childcare so the family can go to court. There is a wrong impression that doing something for foster kids requires actually being the one to invest in the foster kid. What many of us know is that when you invest in the foster FAMILY or the foster PARENTS you are actually doing the best thing possible for the foster child. They need to bond with those parents. They need to feel safe and loved by consistent adults who can provide nurture, structure and stability for them. They don't need a rotating parade of adults in and out of their lives to say nice things to them. When you can build into the foster parents, the foster child will reap the rewards.
"Speak up for those who cannot speak for themselves, for the rights of all who are destitute."
-Proverbs 31:8 (NIV)
Circle of Support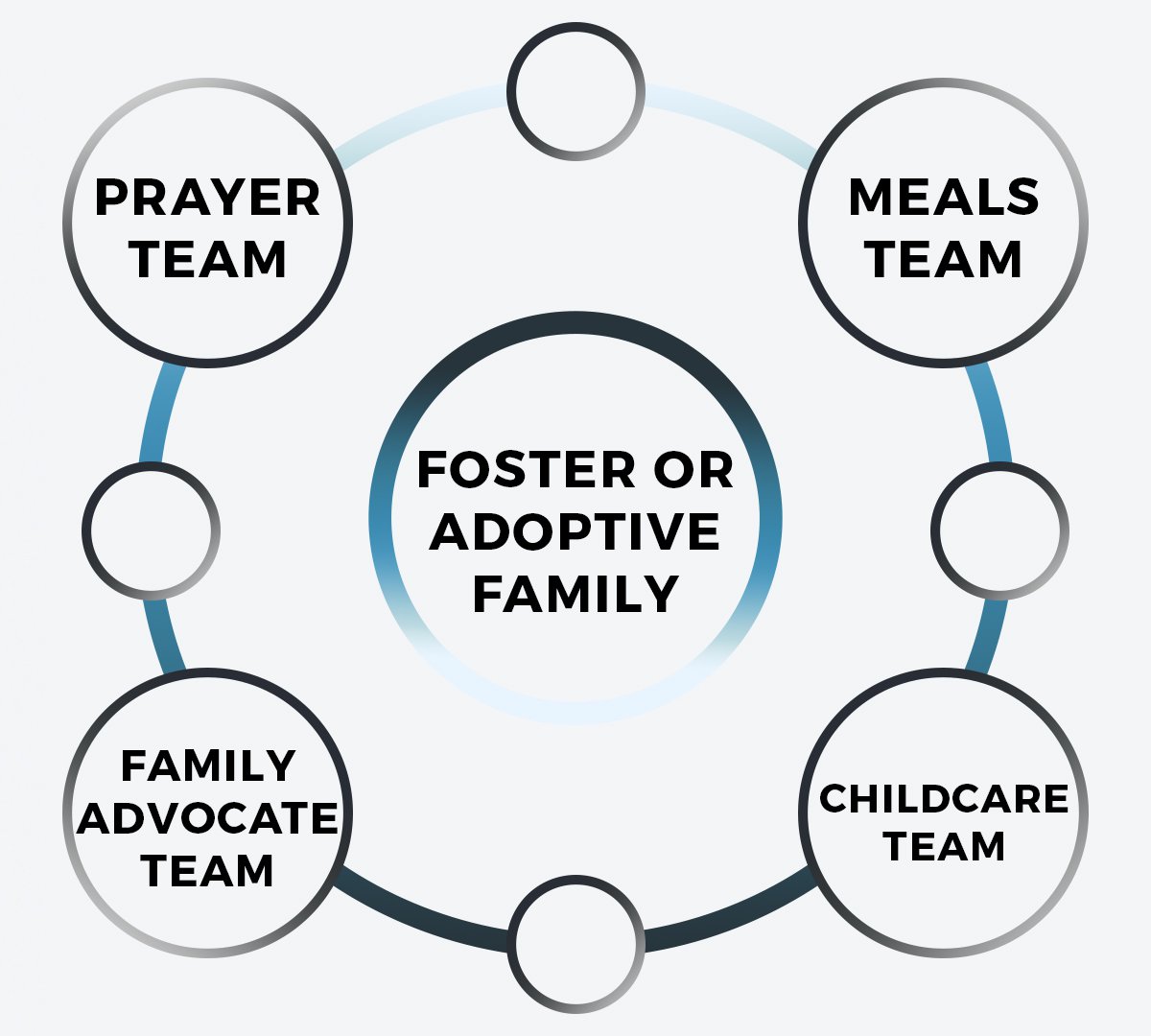 This is the circle of support, in these four primary areas this is how our church can volunteer to support the foster or adoptive families in our church and our community. We hope to expand beyond these four areas in the future, but for right now, we would like to focus on providing childcare, meals, prayer, and a family advocate to walk along side these families. Where do you fit in with Fortress Orphan Care?
Childcare Team
Not only does it take special skills to be a childcare worker, but it's also a calling. As a childcare volunteer, you are providing a few hours of relief for foster and adoptive parents to go out on date nights, reset after a long week, or just to get some alone time. This helps our parents emotionally, spiritually, and even relationally, especially in their marriage. This does take a bit of a longer process to become a babysitter because of the training and classes needed that the state requires. But remember, it's all worth it if it helps just one family.
Meals Team
If You Give a Foster Family a Chicken Dinner
by Maralee Bradley
If you give a foster family a chicken dinner,
They might have extra time to spend with their foster child.
When they have extra time to spend with their foster child,
They'll spend it taking a walk, looking at flowers.
When they spend it on a walk looking at flowers,
They learn more about each other because they aren't feeling stressed by dinner prep.
When they learn more about each other because they aren't feeling stressed,
They are able to work on forming a healthy attachment.
If they're able to work on forming a healthy attachment,
They're creating a foundation for lifelong relational health.
If they're creating a foundation for lifelong relational health,
Sometimes it feels too risky and the foster child will push them away.
When it feels too risky and the foster child pushes them away,
The foster parent will need to work through their own feelings of rejection and lovingly draw closer to the child.
When the foster parent can lovingly draw closer to the child, the child may realize they are committed
even when things are tough.
If the foster child realizes the foster parent is committed, they may feel safe enough to open up.
When the foster child feels safe enough to open up, the foster parent can respond with empathy and can help meet their physical needs.
When a foster parent responds with empathy and offers to meet their physical needs, the child may feel ready to eat.
And when the foster child feels ready to eat, she may ask for a chicken dinner.
Providing a meal to a family who just accepted a foster child into their home means the world! They don't have to worry about cooking dinner for that week, instead, they can focus their time on bonding with the children. If you love to cook and make a difference in orphan care, this is the place for you!
Prayer Team
We can't do much without prayer. It is the backbone of this ministry. In this team, you will be asked to regularly pray for foster and adoptive families. Each month, you will be given prayer needs from families on our prayer list as well as scheduled prayer points to focus on during that week or month. Your prayers would mean the world to these families!
Family Advocate Team
In this team, you will provide tangible mentorship and guidance in the foster or adoption process. If you have had prior experience in the foster or adoption system, this team is for you. Your past experiences in orphan care will help families guide them through trainings, classes, government documents, and paperwork, as well as partnerships with the child placing agency, social workers, and biological families.
Other areas to get involved
Right now, our Circle of Support only includes the four areas above. We hope to expand the circle of support in the future, however, if you would like to serve in other areas of orphan care, below is a list of other areas you can volunteer.
1 Hope For Kids Volunteer
1 Hope for Kids is the Child Placing Agency that we partner with. They have many volunteer opportunities within the organization that may include: diaper deliveries; emergency deliveries; child care services; respite care services; event volunteers.
The Vault Volunteer
Vault Fostering Community provides resources to local foster families who bravely open their homes by providing a safe and caring environment for children who desperately need it. You can volunteer to help with donation management, receiving donations, or other one-time projects.
Provide for Families Through Care Portal
CarePortal is a technology platform that connects vulnerable children and families to people who have something to give. Social workers uncover the needs. CarePortal makes local churches aware, giving them a real-time opportunity to respond.
The Children's Shelter Volunteer
The Children's Shelter puts children first by providing a safe, trauma-focused place for children in crisis whether the need is for immediate shelter, residential treatment, foster or adoptive homes. We work to strengthen families in order to break the cycle of child abuse and offer specialized mental health services for children affected by maltreatment.
CASA Volunteer
The mission of Child Advocates San Antonio (CASA) is to recruit, train, and supervise court-appointed volunteer Advocates who provide constancy for abused and neglected children and youth while advocating for services and placement in safe and permanent homes.
Operation Christmas Child
Every November, we stuff boxes with toys and items of necessity for children around the world. Most of these children would be considered "orphans". We can provide a Christmas blessing to them in partnership with Samaritan's Purse.
Child Sponsorship
Safe Families Volunteer
Become a network of support for at-risk families by developing mentoring relationships with parents and providing a safe home for their children.
International Hosting
Invite an orphaned child to become part of your family for a period of time, and give them a glimpse of the unconditional love of their Father.
Adopt a Child Welfare Office
Help meet the needs of our local child welfare office here in San Antonio or child placing agency (1 Hope For Kids) through tangible donations, service projects, or emotional support.